Unlock the Power of Site Mode
Site Mode Your Maintenance
and Coming Soon Solution
We've upgraded to Gutenberg for an improved experience.
Crafting Coming Soon and Maintenance pages is now a breeze.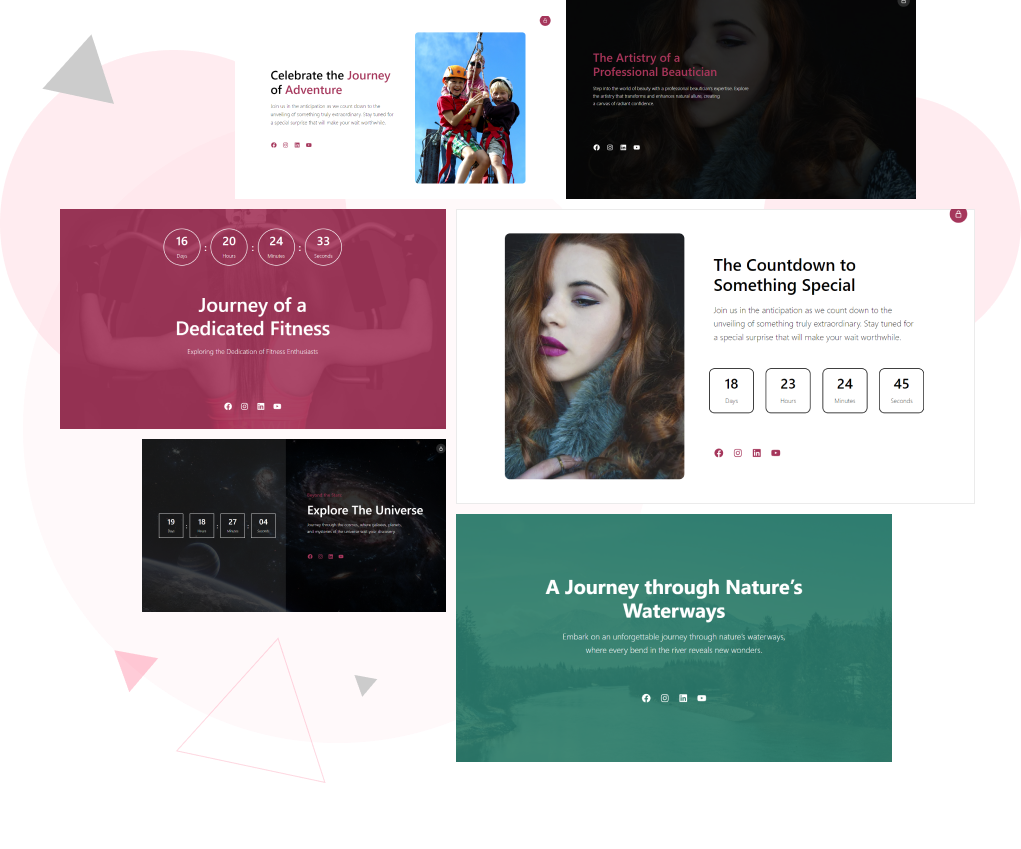 Discover Site Mode's Versatile Features
Explore Our Full Range of Features
Site Mode streamlines maintenance and 'coming soon' page creation. Discover our powerful features.

Easy to Use & Customizable
Simply set up and customize your pages using Gutenberg blocks, making the process straightforward and user-friendly. Tailor your "Coming Soon" and "Maintenance" pages to reflect your brand with flexible options.
Wizard Setup
Easily configure your pages with a wizard setup that lets you choose whether the page is "Coming Soon" or "Maintenance," and select templates for import.

SEO-Friendly
Ensure optimal SEO with Site Mode's features, including customizable SEO meta titles, descriptions, and image settings.

Integrations
Seamlessly integrate with tools like Google Analytics and Facebook Pixel to monitor and analyze user interactions and traffic.
Advanced Settings
Fine-tune your website's behavior with advanced configuration options, including disabling the REST API, RSS feed, enabling redirects, whitelisting user roles, and pages.
Step 1: Select Type
Choose Between "Coming Soon" & "Maintenance Mode"
In this first step, decide whether you want to create a "Coming Soon" page to generate excitement or a "Maintenance Mode" page to notify visitors about updates.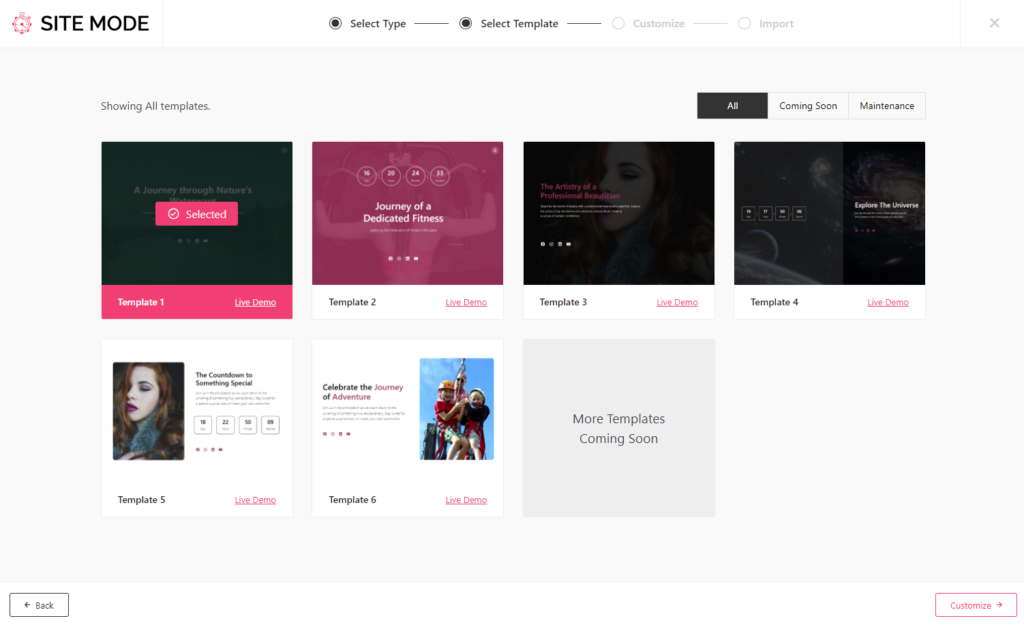 Step 2: Pick a Template
Select a Design Template
Browse through a variety of design templates and choose the one that best suits your website's style and message.
Step 3: Customize with Ease
Adjust Colors and Elements
Customize your page by modifying colors and deciding which elements, such as countdown timers, subscription forms, and social icons, you'd like to include or hide.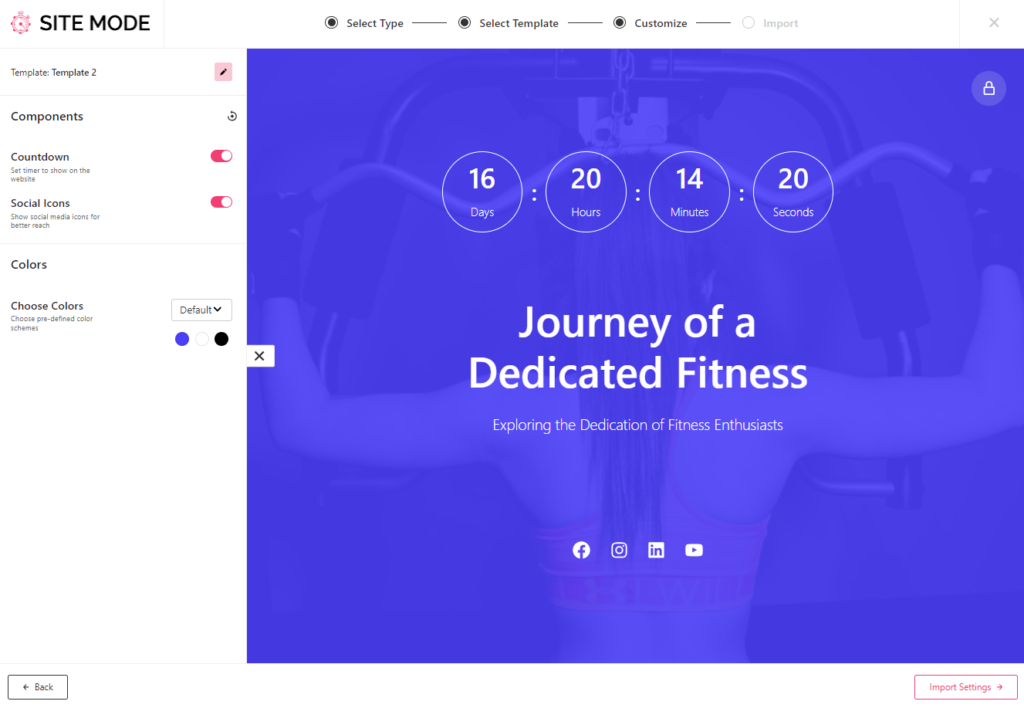 Step 4: Import Content
Let the Wizard Do the Work
Allow the wizard to import the necessary content and settings to swiftly create your page, saving you time and effort.
Step 5: Preview and Edit
Review and Make Changes
After completing the wizard, you can preview the page you've created. If you want to make further adjustments, you can do so using the Gutenberg editor.
See Site Mode in Action
Interactive Site Mode Demos
Explore our Site Mode demos to witness the simplicity and effectiveness of our tools for website maintenance and captivating 'coming soon' pages.
This plugin allows pushing updates on the live site from the backend while providing a great user experience to the visitors by communicating with a clear message on the front using a modern and stylish design provided by the plugin.
---

I highly recommend Site Mode as it is user-friendly and has saved me a great deal of time and hassle while working on my website. Additionally, it offers customization options to suit your specific needs
---

What Our Users Say
User Testimonials:
Real Success Stories
---
★★★★★
Rated 5/5 stars by 2 happy reviewers
100%
Performance
Blazing-fast performance out of the box. No caching plugins needed.
100%
SEO Boost
Built with SEO best practices in mind to help you rank in search engines.
100%
Accessibility
Accessibility compliant to ensure equal access to content and functionality.
Stay Informed with Our Blog
Read Our Latest Blog Posts
Explore our blog for insightful articles on website maintenance, 'coming soon' page best practices, and the latest trends in site management.
Greetings, Site Mode Enthusiasts! We're bubbling with excitement as we unveil something we've been diligently working on – a dedicated online site exclusively for Site Mode: site-mode.com. As ardent WordPress developers, we understand the value of a centralized platform where you can find all the essential resources and updates related to Site Mode. Today, we're…
Ready to Elevate Your Site? Join Site Mode Now
Don't miss out on the benefits of Site Mode. Sign up today and take control of your website's maintenance and 'coming soon' pages.